Weigh in Wednesday
Hello everyone! It's that time of week again! Time to link up with Heather and Erin for Weigh in Wednesday! Don't forget to check out all the other amazing bloggers who are changing their lives for the better!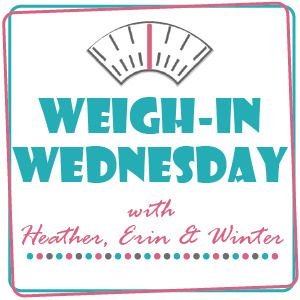 I wish I had good news for myself this week. However, I do have 'it could have been WAY worse' news. Haha. I
gained 0.6 pounds
this week. Honestly, I'll take that. Happily. To say that I totally threw my nutrition directly out the window would be an understatement. I basically ate all the foods. ALL of them. Mostly Saturday, Sunday, and Monday.
Saturday started the day off tired because on Friday I procrastinated and didn't get the order of cupcakes I had to make finished until 11:30 that night. I was busy all morning, but then Harper went to visit with Chandra and Krista, and I fell asleep on the couch. When I woke up I didn't have much time left, to go run errands, cook, clean, and get ready for my Scentsy & Thirty One party. I stopped and got nachos at a restaurant but I had eaten crappy earlier and felt horrible and couldn't even eat them. I got all the food ready (none of it healthy) and even got the floor vacuumed and mopped (since we still have people in and out of our house a lot and it was a wreck). I had a blast at the party but my poor stomach didn't love me for anything that day.
Sunday was Casey's brother's birthday, so we had ribs and 'salads' for supper, plus 2 different birthday cakes. All of which I ate. Of course.
Monday was Casey's grandfather's birthday, and we had supper, cake and ice cream, again. I did manage to eat well the rest of Monday though.
I think that my only saving grace this week has been the fact that I've been kicking butt at my workouts. Seriously. I ran 5K Thursday, Turbofire HIIT20 and PiYo Lower Body Define Friday, Turbofire Fire 30 and PiYo Core on Saturday, Turbofire HIIT 20 and PiYo Upper Body Define on Sunday, and 21 Day Fix Total Body Cardio Fix on Monday.
See? I told you I was killing it.
I've been participating in a little friendly competition with a group of Facebook friends. Last week's challenge was to drink 100 oz of water a day. I almost did it. I didn't get points for any weight loss though. Next week! This week we're aiming to get 5+ servings of fruits and veggies a day. If I follow the 21 DF plan, that'll be exactly what I get.
That's pretty much it for me this week! I'm working on correcting my nutrition. It sucks, as usual. No wonder I'm not getting anywhere with my weight loss!
Last Week: 163.8
This Week: 164.4
Change: +0.6
Overall Loss: - 45.6 pounds